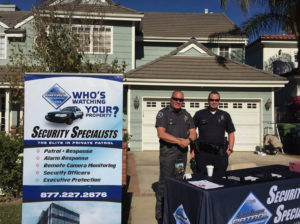 Security Specialists, founded in 1999 by Director of Operations Nick Tsotsikyan, provides a variety of protective services within Southern California available 24 hours a day, 365 days a year. Security Specialists Los Angeles covers security in not only Los Angeles County but also Orange County, and San Fernando Valley.
◦ Patrol Service
◦ Alarm Response Service
◦ Remote Camera Monitoring
◦ Security Officers
◦ Executive Protection
Why Security Specialists?
•Somewhere between having a live dispatcher answer whenever you call, to receiving an incident report with photos in your email inbox the morning after, you will notice a "True" security company in operation.
•For years, 99% of our clients have been serviced under month-to-month contracts. Most of our business comes from word of mouth or repeat clientele. Our focus is establishing long-term relationships with our clients and providing quality professional services and not just selling a price like traditional security companies.
•We staff a 24-hour operations and dispatch center to expedite response to emergency calls, coordinate field operations, and process daily reports.
•We employ a unique database technology that is exclusively built and designed by and for Security Specialists, for reporting and documenting information on events and incidents, trespass warnings, parking violations and crime related intelligence.
•It comes standard to provide next day automatic reports delivery to clients through email.
•Our radio and data communications equipment are state-of-the-art.
•Technology and equipment are integrated into field operations with in-car laptop computers and special patrol equipment.
•We strive to only employ professionals that want to grow in the security field with our company or use the experience they gain as a stepping stone for law enforcement.
•Training programs strategically exercised during initial hiring and on-going employment of employees contribute a major role in our organizational procedures.
•We have the unique capabilities of establishing crime prevention efforts and aiding clients in developing long-term security strategies in diverse areas stretching from upscale residential communities to low-income housing projects.
•We are confident with the combination of our professional capabilities and our knowledge and experience in the private patrol industry will yield the best possible service relationship with you and your organization.