Neighborhood safety is our priority
Security Specialist HOA Security Services
Our security specialist HOA security services can bring a formidable element of experience to your Home Owners Association security concerns. Gated communities and other neighborhoods need to appreciate the fact that when it comes to protecting property and individuals, it can be invaluable to have a deep appreciation of your options. At Security Specialists, our Los Angeles-based security company has a great deal of experience with HOA security.
Simply put, regardless of what you need in the way of Home Owners Association security measures, we can help. Contact us today, and we can get started on creating a customizable plan for your neighborhood. This is a plan that will provide you with comprehensive protection for not only the present, but for the future, as well.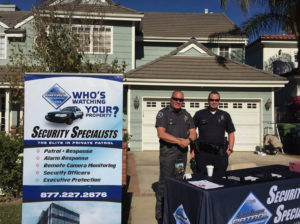 Los Angeles HOA Security Services
HOAs throughout Southern California rely on our security specialist HOA security services. With fifteen years of experience, you can be certain that we have worked with a wide range of neighborhoods. We have worked with homes of all shapes and sizes, and the same can be said for the gated communities and other types of neighborhoods we have assisted since 1999. No matter how your own neighborhood breaks down, we can promise you an HOA security plan that will be designed around what your community needs to feel safe.
What can that entail? To start with, we offer mobile patrol units that will patrol your community to deter crime, while also taking care of such needs as looking after parking, or enforcing towing orders for vehicles that are parked illegally. We aren't going to leave anything to chance, and we are going to make sure you remain in constant communication with our services. You will also be able to reach out to us at any time, which can certainly prove to be essential in the event of an emergency.
Our security officers send daily reports to your HOA, and we will take every step instructed to us to ensure that your property is being protected. We will keep residencies and properties safe from theft, but you can count on us to protect your neighborhood from virtually anything. This is what it means to have a comprehensive HOA security plan in place. Contact us today, and let's see how our security specialist HOA security services can be applied to what you need in the way of protection. As you will soon find out, the possibilities make for a very long list.